Hays PLC
t.e.a.m. has supported Hays PLC in the SAP environment since 2017.
An example of an outstanding project is shown below.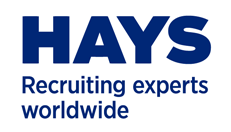 Automation - Contracting.
In the contracting business segment (referral of freelance specialist resources to a large number of customers in a wide range of industries), the entire back-office process and the process for entering and approving services was digitised. A key element of this digitization is the new "Hays MyTime" app, which can be used on an IOS or Android basis or on the Web.
With this app, external service providers have the possibility to directly enter their services and travel expenses and to submit them electronically to the customer for approval. Customer feedback is also processed automatically. This processing is fully integrated into the back-end processes in SAP ERP, so that end-to-end optimization and quality improvement is achieved. Even during the outbreak of the Corona pandemic and the subsequent lockdown, thanks to the MyTime app, billing management could be carried out as usual and without interruption.
In SAP, the E2E process includes Sales (SAP ERP SD), Material Management (SAP ERP MM), Finance (SAP ERP FI), Controlling (SAP ERP CO), Human Capital Management (SAP ERP HCM), Cross Application Time Sheet (SAP ERP CATS) and Business Warehouse (SAP ERP BW).
The time recording app Hays MyTime was developed on the basis of an SAP cloud platform with Fiori technology, CSS and JAVA script (web interface, iOS and Android app).
CUSTOMER FEEDBACK:
"The cooperation with t.e.a.m. was and is very pleasant, efficient and goal-oriented. The consultants of t.e.a.m. bring along very good technical skills as well as a high social competence. This combination has made it possible to find the right approach and ensure the success of the project together with internal colleagues even in critical project phases."
(Dr. Volker Lanninger, Head of Business Solutions & Corporate Projects)
Company.
Hays PLC is a leading global recruitment company for the recruitment of highly qualified specialists. Hays is active in both the private and public sector and provides specialists for permanent positions, project work and temporary employment. The company employs over 11,500 people in 33 countries worldwide and generated revenues of 6.86 billion euros in the 2018/2019 fiscal year.In Germany, Hays recruits specialists from the IT, engineering, construction & property, life sciences, finance, sales & marketing, legal, retail and healthcare sectors.